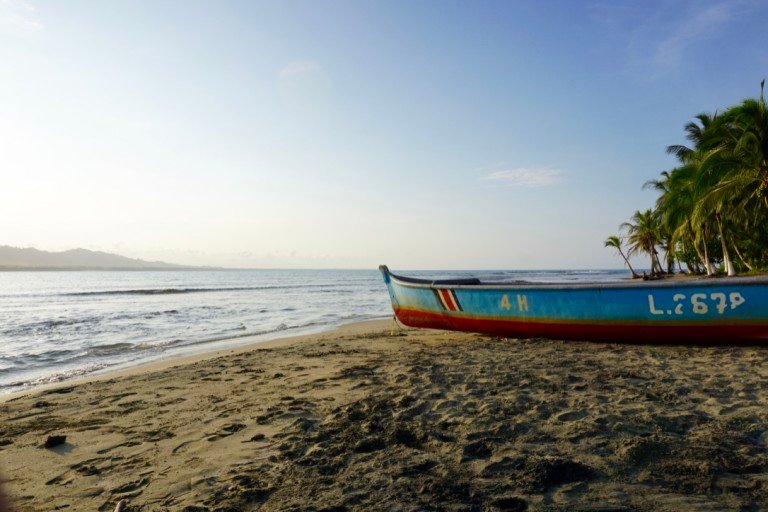 Upon exiting the sterility of Juan Santamaria International into the muggy San Jose air, travelers are greeted with the familiar sights, sounds, smells, and apparent chaos that are commonplace in most all Central American urban centers. Distracting blares of car horns and frenzied traffic jams, lines of taxi drivers jockeying for clients, and the stench of a growing city grappling with the challenges of life in the tropics will leave any visitor curious where they can find the Costa Rican Pura Vida that lined page after page in their travel guide.  The urban cityscape of San Jose certainly does have its own allure, culture, and intriguing turmoil, but when you dive deeper into the jungles and further away from the masses the beauty of this country and its people quickly becomes glaringly obvious.
I had a few simple goals for the couple of free weeks I had in April: get out of the country to somewhere warm, not jet-laggingly far, and easy to navigate. I also needed to scratch a major surfing itch. With these stipulations, I chose Costa Rica rather quickly. Despite being a well-traveled country, there still promised to be plenty of things to discover, quiet beaches and surf breaks to enjoy, and an authentic culture. Perhaps most importantly, the tide of Western tourism has been allegedly received with open arms. That is, measures have been taken in Costa Rica to ensure that the onslaught of tourists would not compromise the environment, culture, or society that attracted them in the first place. This, to me, was especially intriguing.
————
I was in search of a quieter corner of the country perhaps less developed than elsewhere and pointed the compass south to the Southern Caribbean province of Limón.  Here, I could catch the tail end of peak surf season in the region – likely trading more regular swell for less crowded beaches, breaks, and bars.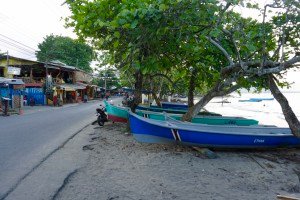 The vibrant coastal town of Puerto Viejo has become a pseudo hub of the province, and the city has
embraced its reputation as a backpacker destination and surfing hotspot. Friendly beach breaks line the shores to the north and south of town, but the real draw to the area is Salsa Brava – a board-eating right-hand reef break directly off of Puerto Viejo's main drag. By day Puerto Viejo is buzzing with markets, beachcombers, and day drinkers as surfers take to their many options up and down the coast.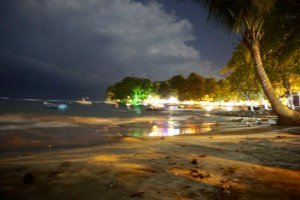 By night, the city transforms into another animal for those not too exhausted from a day in the sun. Cheap drinks and live music pour out of the many small open air bars while non-aggressive marijuana and cocaine hustlers linger on the edge of the shadows – as eager to make a deal as they are to simply chat with a passerby. The pirate-town vibe continues late into the night, albeit trading ransacking for revelry. Locals and travelers get comfortable in cafes and bars to enjoy a brief respite from the hot Caribbean days while street food vendors line the roads offering delicious kabobs and savory empanadas to munchie-motivated patrons.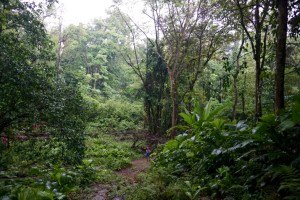 I quickly fell in love and made Puerto Viejo my home base. With a consistent 5 – 7 foot swell pumping into town and ample opportunities to explore the coast nearby, it was a no brainer. From town, I explored the reefs, jungles, and wildlife of Cahuita National Park, trekked through the woods and rain for 2 hours to visit a friend living deep in the jungle of Manzanillo, and caught my fair share of waves. Though notably uncrowded in mid-April, I had to wonder about the area's peak season carrying capacity when hundreds, if not thousands, could flock to this otherwise sleepy coast.
Through all interactions with locals, however, my concerns were quickly nullified. I found myself regularly amazed by sheer kindness. There seemed to be a genuine appreciation for outside visitors, despite the boisterous and overwhelming personalities that can accompany them. Travel can bring out the best and worst in people, yet the locals of Costa Rica always seem to assume the former. Most of this inner kindness must be innate, and the remainder could be attributed to a thorough understanding of a sustainable tourist economy.
Well aware that tourist dollars have the potential to support livelihoods, Costa Ricans are even more conscious of the necessity for intentional preservation of both environment and culture. From hand-painted signs to government-sanctioned practices, the intent is clear around every corner. At least around the Southern Caribbean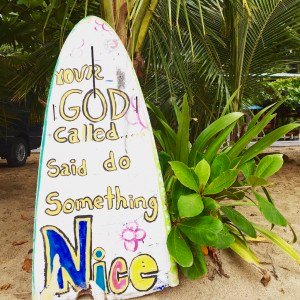 Coast, locals strive to attract visitors without compromising values or character.  I was initially skeptical of the North American tourist pipeline to Costa Rica and the potential for it to leave disgusting Americanized impacts on an otherwise beautiful country. After experiencing it first hand, however, it is clear that Costa Ricans are well ahead of the curve in protecting their Pura Vida in an ever-shrinking world.
————
Once the travel bug bites, the infection quickly becomes systemic, and that is precisely what happened in Costa Rica. Totally enchanted by Puerto Viejo, I began to wonder what else was at my fingertips. I poured over maps, crunched numbers, and quickly realized that if I didn't take advantage of our proximity to the Bocas del Toro province of Panama now, it could be ages before I returned. After another day surfing the excellent, but diminishing, swell in P.V. I found myself surrounded by endless banana fields on a one-hour shuttle to the border town of Sixaola. In contrast to many other border crossings, this transition between Costa Rica and Panama had few fences and even fewer armed guards and authority. I quickly got my stamp, hopped on a shuttle to the port town of Almirante, and caught a 30 minute water taxi to the Caribbean paradise of Bocas del Toro.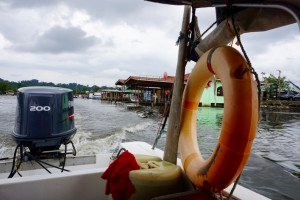 As Panama is quickly gaining ground on the global tourism market, special places like the Bocas del Toro archipelago are being visited with increasing frequency. To my delight Panamanians also seemed to have an excellent grasp on what the emerging shroud of tourism means for their culture, environment, and home. The island vibe prevails throughout the archipelago, where visitors are drawn to endless white sand beaches, mangrove swamps, beautiful coral reefs, and off shore surf breaks.
Locals across the island chain were eager to share
a slice of their life with folks just passing through. Similar to Costa Rica, Bocas – the region's largest town – is making a clear and ubiquitous effort to preserve their natural and cultural resources while still attracting visitors to paradise. This consciousness added even more inspiration to full days spent zipping around on bikes and water taxis, as I tried my best to uncover as many of the archipelago's secrets as possible.
Time passed quicker than I would have liked and, after navigating a few minor shuttle hiccups, I crossed back north into Costa Rica as easily as my southbound venture had been. I arrived back near Puerto Viejo in time to grab a quick bite to eat at a local Soda and sneak in a final surf session under an electric sunset.  The waves rolled in. And the sets? Picture perfect. If only I remembered a camera.
————
The following day, I reluctantly put the Caribbean in the rearview and returned back to San Jose for an early morning flight. Pledging to make the most of the drive, and perhaps dragging my feet just a little bit, I stopped at a roadside fruit stand to stock up on mangos and papayas for lunch. Given my experiences thus far it came as little surprise that the vendor invited me in to drink from coconuts, try his plátanitos, and, above all else, converse.  We chatted about fruit, family, and life in Costa Rica and the U.S. before reluctantly saying farewell. When I asked what I owed him, my new friend simply replied, with a big smile, "Lo que quieras." Whatever you want.
Onward I trudged, breaking up the drive with more stops including Poas Volcano National Park. Here, yet again, I was impressed with the effort put into education and the visitor experience.  Hair-pinned mountain roads escort drivers up to the park entrance where trails and interpretive signs help guests realize the importance of history, biodiversity, and conservation in the region.  The snaking pathways eventually lead to an aerial view into the Poas crater.

Following inconsistent kilometer signs back into San Jose, I got turned around in Alajuela but was soon put on the right track by more kindness from strangers.  I was soon checked into a hostel, enjoying a balcony view. The surrounding neighborhood and cityscape glistened in the glow of streetlights and a cathartic drizzle. I did my best to unwind as my mind raced with both Costa Rican memories and travel plans for the future.  Complete relaxation only came in reminding myself that Pura Vida will always be here, looked after by a people ready to share it with open arms.